Titian
c.1485 - 1576
Italian Painter
Titian was the greatest Venetian artist of the Italian Renaissance.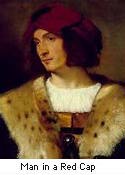 Tiziano Vecelli, or Titian, was born in Pieve di Cadore, Italy. Trained in the studio of Giovanni Bellini Titian became a master of religious art and the creator of mythological compositions. His art found the support of the Republic of Venice where he was employed for life. His revolutionary style became apparent in such works as 'The Assumption of the Virgin' (1516--18, Venice).
For the Duke of Ferrara he painted three great mythological subjects, 'The Bacchanal', 'The Feast of Venus', and' Bacchus and Ariadne' . Later he painted many pictures for Emperor Charles V, and also executed a series of works on mythological scenes for Philip of Spain.