Rembrandt van Rijn
1606 - 1669
Dutch Painter
Rembrandt was born in Leyden. He studied under several masters, and was introduced to Italian art. He settled in Amsterdam (1631), where he ran a large studio and took numerous students.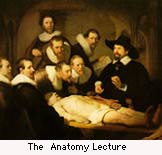 His early works include religious and historical scenes, unusual in Protestant Holland. In the year of the death of his wife Saskia (1642) he produced his masterpiece, 'The Night Watch' - his most famous painting.
Rembrandt became the paramount artist of the great age of Dutch painting. He is known for his originality and expressive power. Rembrandt stressed drama, and violent contrasts of light and dark. The colors of his later works are more mellow and glowing.
His extravagant life style led to bankruptcy in 1656, but he continued to work with un-diminished energy. His preserved works number over 650 oil paintings, 2000 drawings and studies, and 300 etchings.