Raphael
1483 - 1520
Italian Painter
Raphael was the supreme painter and architect of Italian High Renaissance classicism.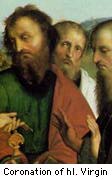 Raphael was born in Urbino, Italy. He studied at Perugia under Peruginino, whose style is reflected in his earliest paintings, such as 'The Crucifixion'.
Around 1504 he went to Florence, where he was strongly influenced by Leonardo and Michelangelo. He completed several Madonnas, as well as such works as 'The Holy Family'.
In 1508 he went to Rome, where he produced his greatest works, including the frescoes in the papal apartments of the Vatican, and the cartoons for the tapestries of the Sistine Chapel. Six years before he died he was appointed chief architect of St. Peter's Church in Rome.