El Greco
1541 - 1614
Greek/Spanish Painter
Domenikos Theotokopoulos was born in Candia on the Greek island of Crete, but spent most of his life in Spain where he was called El Greco - the Greek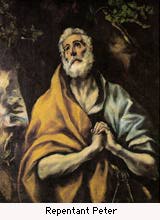 El Greco studied under Titian in Venice, after which he travelled to Rome, where he was influenced by Raphael and Michelangelo. Subsequently he moved to Spain where he designed altar-pieces for a church in Toledo.
(Many of his works are in Toledo, where there is also the Museo del Greco)
His devotional paintings reflect the fanatical zeal of his adopted country and his many portrait paintings made him famous among many aristocrats.
He developed an individualistic style illuminating certain spots within his paintings in order to highlight for the viewer the most important part of the picture.
He was too individual to have any immediate followers, but in the twentieth century his paintings have stimulated many modern paintings, and he is now recognized as one of the world's great artists.