Painter and engraver, born in Nurn-berg, Germany. Durer studied under Michael Wolgemut, travelled widely, and paid two visits to Italy (1494-5 & 1505-7), as a result of which the Gothic element in his work was largeley superseded by Renaissance influences.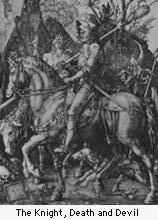 The prints of this graphic artist diffused his new style, which combined the German tradition with the Italian ideals of beauty. In 1497 set up his own studio.
One year later he published his first great series of designs on wood, the illustrations of the Apocalypse. He also worked on the largest known wood cut 'Triumphal Arch' (100 sqft or 9 sqm) in honour of the Emperor Maximilian I.
Durer was a tireless worker who produced over a thousand master pieces, executed in a great variety of techniques, such as copperplate engravings, pencil drawings, wood cuts and oil paintings.
He was the first artist who elevated the graphic medium to an independent art form.