JAN VAN EYCK
c.1389 - 1441
Flemish Painter
Jan van Eyck was the founder of the early Netherland school of painting.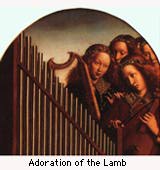 He was born near Maastricht, and lived in Bruges after 1431. He was successively in the service of John of Bavaria, Count of Holland, and Philip of Burgundy, for whom he undertook diplomatic missions in Spain and Portugal.
Jan van Eyck was the greatest Flemish artist of the 15th century. He perfected the newly developed technique of oil painting and his style served as model for generations to come. All the works which can be definitely attributed to him date from the last 10 years of his life. His masterpiece is the altarpiece in the cathedral at Ghent, the 'Adoration of the Lamb'.