Giotto
c.1266 - 1337
Italian Painter




Giotto di Bondone was a painter, architect and sculptor, and the founder of the Florentine School of painting. He was born near Vespignano, and lived mostly in Florence.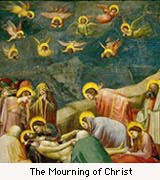 Giotto was the greatest and most influential Italian painter before the Renaissance. He decorated chapels in Assisi, Rome, Padua, Florence and Naples with fresco murals and paintings. His major work was the fresco cycle, 'The Lives of Christ and the Virgin', in the Arena Chapel Padua.
In 1334 he was appointed Master of Works of the cathedral and city of Florence, where amongst other works he designed the campanile.