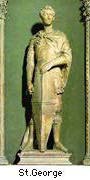 DONATELLO
1386 - 1466
Italian Sculptor






Donatello was one of the greatest Florentine sculptors. He lived mostly in Florence but spent some time in Rome, Padua and Siena.

Donatello was greatly influenced by antique art and Humanist theories. His statues display, for the first time since antiquity, the human body as a functional organism, and the human personality radiated a confidential individuality.

His most classical work is 'David' the first free standing sculpture in the Christian era. His 'Singing Gallery' for the Florence cathedral is his most popular creation and his statue of the Ventian warrior Gattamelata on horseback is considered his best work.