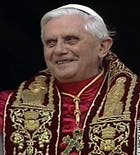 Pope Benedict XVI
German cardinal Joseph Ratzinger was elected new pope as Pope Benedict XVI.
Once the archbishop of Munich, Germany, and for many years prefect of the Sacred Congregation for the Doctrine of Faith, Ratzinger, was one of the most powerful men in the Vatican and is widely acknowledged as a leading theologian.
Ratzinger served for 20 years as John Paul II's chief theological adviser.
In the Vatican, he has been the driving force behind crackdowns on liberation theology, religious pluralism, challenges to traditional moral teachings on issues such as homosexuality, and dissent on such issues as women's ordination.
The dean of the College of Cardinals since November 2002, he was elevated to cardinal by Pope Paul VI in June 1977.