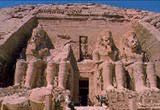 Abu Simbel
In 1257 BC, Pharaoh Ramses II had two temples carved out of solid rock at a site on the west bank of the Nile south of Aswan in the land of Nubia and known today as Abu Simbel.
With the construction of the Aswan High Dam in the 1960s, the temples were threatened with submersion under the rising waters of the reservoir (Lake Nassar).
Between 1964 and 1966, a project sponsored by the United Nations Educational, Scientific and Cultural Organization (UNESCO) and the Egyptian government disassembled both temples and reconstructed them on top of the cliff 200 feet above the original site.