A perfect Christmas gift


This entertaining chart is a most suitable gift for anybody interested in world events and also a great opportunity to complement HyperHistory with the printed Chart thus linking digital with printed media
The printed Chart presents a superior overview of all history, while Online provides depth and links.

The Wall Chart is folded into the cover of a book with 48 pages of text. The original Chart soon became a
bestseller and educational institutions have been using the Chart and Book as a required textbook reading.
Re-designed and updated a new and final edition has been published recently. See Testimonials
Order the final edition now as stock lasts !
Low prices for the package of Chart & Book :



USA + Canada US $ 26.00
( Shipping by air mail included )



Overseas US $ 35.00
( Shipping by air mail included )


Three easy ordering options:

PayPal Service


You don't need a PayPal account -
pay securely using your credit card.





or,




or,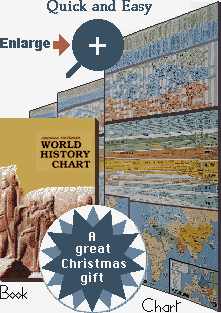 Check Payment
Send a Personal Check or International Money Order to:
WORLD HISTORY ONLINE
301-2164 Wall Street
Vancouver, B.C.
V5L 1B5
Canada
The complete package will be shipped immediately after reception of payment.

Contact the author by mail at the address above.
Unfolded World History Chart (14" x 48" ) : 3,000 Facts - 464 Lifelines - World Chronologies - 24 Maps