The Pearl Oyster
A proposal based on suggestion made by the late Ron Woodcox - a long-time Campbell River resident. Ron thought that the town must offer the cruise ship customers more than adventure tours & box stores. If approached with courage
and foresight, he argued, the unique waterfornt site in question could become Campbell River's Jewel in the crown.
His suggestions included: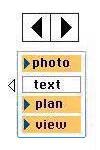 a permanent home for farmers and fish market
a tourist pavilion to promote BC and the Campbell River area
an artisan village to encourage local artists to show and demonstrate their skills
Parks and ponds for relaxation and picnics
covered walkways to accomodate all seasons
a cultural centre for theatre, art gallery and library
a seaside promenade for pedestrians
a Japanese style garden with a proper Tea House,
since Campbell River has already a sister city - Ishikara - in Japan
How refreshing when local residents feel passionate about their community! It also made a
compelling reason to put these ideas into a cohesive design - resulting in the Pearl Oyster concept.
The Scene
The immediate effect of the Pearl Oyster experience for visitors and tourist will be one of wonder, exitement and surprise.*
First time visitors to the Campbell River information pavilion proceeding towards the wide curved entrance stairs will enter a magical scenery as they unexpectedly glance over a sunken garden area, beautifully landscaped, surrounded by delicate sail-like roof structures which shelter markets, numerous small stores and boutiques.
Then the visitors will discover - behind the Japanese gate - a genuine charming Tea House facing a sculptured pond in the midst of an artisan village with park and picnic areas.

Shaping the inner 'Oyster' are curved building structures with ample space (245 000 sq.ft.) for residences and cultural activities such as theatre, art gallery, library and conference rooms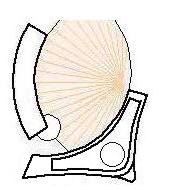 The idea for this proposal is to create something so exiting and unusal that tourists would have a unique opportunity to remember their vistit to Campbell River.
A least it should stimulate a lively debate - keeping in mind that the basic oyster shell could also be used to accomodate alternative ideas.

* The surprise would be similar to what people experience when they enter the Butchard Gardens near Victoria.

Andreas Nothiger